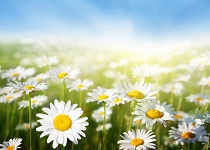 By Rebecca Geiger
June 2016
It is summer tiem! It is time for grilling, sunbathing, vacationing, and just chilling out! If you are like me, you love going to the pool to cool off in the summer time. It is one of my favorite things to do this time of year. I also really enjoy grilling out, going to festivals and watching my plants grow in the garden.
All of these things require me to be in the sun and heat all day, which can get the best of me at times. Over the years, I have learned some tricks to make the most out of my summer by balancing the things I love to do with my own body's needs.
Top 3 things you must consider while outside during the summer…
1. Hydration- You need to consume at least 50% of your body weight in ounces of water per day on the regular. When you are perspiring, this number goes up. Listen to your body and drink when thirsty, (or hungry, as this is sometimes a sign of dehydration rather than actual hunger). When in doubt, drink 6-8 ounces of water every hour you are outside.
2. Sunscreen- You need at least an SPF 30 (SPF 15 year round) to really be protected in the summer. If you didn't know, I have to let you know that YOU STILL GET TAN WEARING SUNSCREEN. I know it sounds crazy, but it's true. The increase in the brown color pigment, melanin, is what makes your skin get darker. Yes, this is definitely influenced by the sun, but not necessarily form the sun's harmful rays that you need the protection from.
You must read this if you use spray sunscreen!
I am not even going to go there about the potential hazards on our ozone layer these spray sunscreens may still possess, but where I will go is here. Spray sunscreens prevent you from offering positive touch to your children.
There is so much talk about negative touch on children, which absolutely disgusts me, but I wish there was more talk on positive touch on children. There are amazing health benefits of touch, in general, and children should get to experience them.
You may already show your children loving touch, but you also may not. So, I am here to just remind you to take the opportunity to show your child loving touch by applying sunscreen in a lotion form (If you insist on using the spray, massage it in with your hands). Give them a little massage, and get them to do the same to you.
It is a great bonding experience. Oxytocin, the bonding hormone is activated by touch. Please read more about the research and benefits of touch here. http://www.massagetherapy.com/articles/index.php/article_id/1666/The-Power-of-Touch
3 Shade- You don't always have access to shade when you are enjoying the great outdoors, but with a little planning, you can make it work. Here is how I manage shade to help prevent myself from overheating.
When I go to the pool, I try to find a somewhat shaded area. If I can't find a good area, I make one with an umbrella or an extra large towel.
If I am outside enjoying a festival or bbq, I always remember to wear sunglasses to shade my eyes. I know it seems obvious, but I see so many people squinting in the sun when they don't have to. Our eyes are precious, and they need loving care, too. And, squinting causes premature wrinkles, which I know you don't want.
Anyone who thinks gardening is so simple and effortless (like I used to), you are WRONG-O. It is hard work digging and pulling and hauling and dripping sweat. I have experienced major heat headaches after spending a couple hours gardening in the hot sun. To prevent myself from taking 4 ibuprofen and having to lie down for 30 minutes, I now just garden in the evening when the direct sun is no longer beaming down on me. I will find other, more pleasurable, ways of relaxing than being forced to by heat exhaustion.
Like, get a massage!
Summer time is supposed to be easy peezy, lemon squeezy (as my daughter says), and you should enjoy every minute of it. Just like its opposing season, Winter, you have to take precautions to protect yourself form the hazards of the sometimes harsh weather. Please enjoy your summer, but be savvy and take care of yourself!