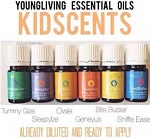 by Cassandra Philpot
August 2016
You can use essential oils for just about everything. They help with moods, sleep, and behavior. This isn't only for adults either, Young Living has their very own essential oil kit for kids. Here is what is in the Young Living Kids kit:
GeneYus – Sacred Frankincense, Blue Cypress, Cedarwood, Melissa, Blue Spruce, Palo Santo, Galbanum, Bergamot, Myrrh, Sandalwood, Geranium, Rosewood, Ylang Ylang, Hyssop, Black Spruce, and Rose essential oil.
Bite Buster – Idaho Tansy, Citronella, Palo Santo essential oil.
SniffleEase – Eucalyptus Blue, Palo Santo, Lavender, Dorado Azul, Ravintsara, Myrtle, Marjoram, Pine, Cypress, Black Spruce, and Peppermint essential oil.
Owie – Idaho Balsam Fir, Tea Tree, Elemi, Cistus, Hinoki, and Clove essential oil.
TummyGize– Spearmint, Peppermint, Tangerine, Fennel, Anise, Ginger, and Cardamom essential oil.
Sleepylze – Lavender, Geranium, Roman Chamomile, Tangerine, Bergamot, Sacred Frankincense, Valerian, and Rue essential oil.
These are all blends of different essential oils and the synergistic effects of the oils are very beneficial to kids. Here are what these blends do:
Helps children stay on task.
Soothes sensitive skin.
Supports healthy skin.
Calms the body.
Uplifts the senses.
Relaxes the mind and body.
They are safe for you and children to use. Which blend you use and for what purpose will determine how you use or apply the oil. For example, Bite Buster is supposed to be good for the skin and can be used on bug bites and itchy spots. Sleepylze can be used before bedtime, naptime, or to cause relaxation to the child. Just apply a few drops behind the neck, ears, and on the wrist. You can find out more about this kit by going to the Young Living website.
They also have an essential oil blend for mother and babies called Gentle Baby. It's safe for the mother and baby before and after birth. It's supposed to be calming and help relax the mind and body. It's great for first time moms, hard pregnancies, and upset babies. It can be added to baths to soothe babies and moms. You can put a few drops in the palms of your hands and massage onto your upset child.
If you would like to purchase the KidSecents oil collection or the Gentle Baby oil blend. Rebecca Geiger and myself (Cassandra Philpot) both sell Young Living essential oils and would be happy to help you.